20 Out-of-the-Box Cardboard Cat Toys that Your Cat Will Love
One man's box is another cat's favorite treasure. Internet memes have scientifically proven that cats love cardboard boxes. Lead Cardboard Advocate, Maru the Cat, would suggest you consider re-using your old card-board boxes to create feline-approved cat toys. We've compiled a collection of easy-to-make cardboard cat toys and habitats that will keep your cat entertained for hours on end.
Even though this cardboard ball is originally designed for pet bunnies, it is suitable for cat-purposes.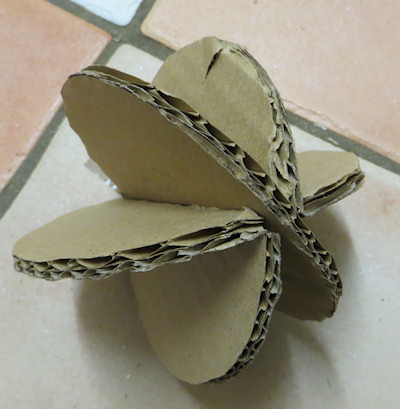 Cut a toilet paper roll into rings and insert them onto each other to create a light-weight ball.
Your cat will find the fringe edge of these paper rolls irresistible.
Give your cat a mental work out and create a puzzle toy with treats. Simply fill an empty tissue box with empty toilet paper rolls, treats, and presto!
Use three toilet paper rolls to create a creepy crawly that your cat will love to bat around. Add a rattle to make it more interesting!
This cat deserves an Emmy.
       Create the purrfect cat scratcher by glueing several pieces of cardboard.
This project will need more creativity. But you'll be able to live vicariously through your cool cat.
Stick a ball in one of these contraptions and watch your cat transform into Ninja Kat!
 Ready for Cat Cosplay?
Ohhh the sight of hammocks, coconut drinks, and pristine beaches. Give your cat the gift of paradise. If you can't have it, he can.
Or take the easy route and tie a sheet of fabric securely to the legs of a chair.
Build your cat a fort, because, why not?
Not feeling the Middle Ages? Make your insomniac kitten a replica of "the city that never sleeps".
Cardboard concrete form tube is more cat-friendly than you think.
Send your cat into an intergalactic space trip with this terrestrial rocket ship. Warning: Martian children subject to take over cat house.
This simple cat tunnel features one peek-a-boo window and hours of cat swatting adventures.
Give your neighbor's cat apartment-envy with this easy-to-make cat condominium. Just stack a couple of boxes in a corner of your house!
Keep your kittens organized with this cute kitty cubby.
The cat milk carton home is a completely rational decision if you're a milk lover.
And while all these creative cat residential are awesome, who are we kidding? All you need is a cat and a box:
Don't forget to follow us on Facebook and Twitter!
Want to explore DIY portraiture options for your dog? Click here!